/ Home
/ News





/ Part #6 Madrid, Spain
/ Part #5 ProMidNord
/ Part #4 Sundsberg - Sveaborg
/ Part #3 Moss, Norway
/ Part #2 Porto, Portugal


/ Part #1 Helsinki, Finland


/ Part #0 Helsinki, Finland





/ Videos
/ CV
/ Contact
/ Oskar Lindström
/ Martijn van Berkum




Part #1 Helsinki, Finland



/ Year: 2003
/ Method: Billboard in public space
/ Produced with support by Fonds BKVB and the Netherlands Embassy in Helsinki
/ Carried out in co-operation with NIFCA, the Helsinki City Art Museum and Muu.ry


In short
Part #1 deals with the construction of an enormous shopping mall in the center of Helsinki. It aims at undoing the utopian image that construction billboards usually present and reveal the destruction it attempts to cover up. Read more...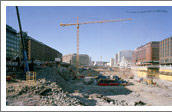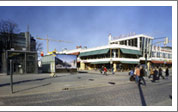 Click pictures to enlarge - the photograph left, billboard right