/ Home
/ News





/ Part #6 Madrid, Spain
/ Part #5 ProMidNord
/ Part #4 Sundsberg - Sveaborg
/ Part #3 Moss, Norway
/ Part #2 Porto, Portugal
/ Part #1 Helsinki, Finland


/ Part #0 Helsinki, Finland







/ Videos
/ CV
/ Contact
/ Oskar Lindström
/ Martijn van Berkum




Part #0 Helsinki, Finland



/ Year: 2002
/ Method: Billboard in public space
/ Produced with support by Fonds BKVB and the Netherlands Embassy in Helsinki
/ In co-operation with NIFCA, the Helsinki City Art Museum and Muu.ry. Not carried out.


In short
Part #0 dealt with the construction of the parliament annex in Helsinki but was never carried out; a range of political circumstances in the area lead to a dismissal. We regard this not as a failure, but as a project that reveals vital power structures in public space. The project dealt with the way billboards at building projects usually depict a utopian reality that excludes 'undesirabilities'. Our aim was to 'hack' the visual rhetoric that surrounds this building site, with the purpose to reveal or criticize the economical and political motives that informs it. Read more...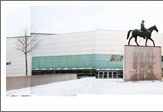 Sketch (click picture to enlarge)